Cellphones, PDAs and MP3 Players
Welcome to TG-2000.com. From cellphones to the lightest of PDA's, to the latest MP3 players and game consoles, we have it all. Come see our articles, newest cellphone reviews, and previews for game consoles, PDA/GPS, and MP3 players.





Featured Gadget - Cellphone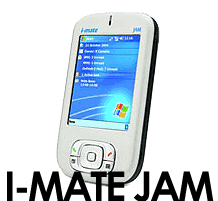 The first thing you'll notice about the I-mate Jam is that it lacks a QWERTY keyboard. But while the I-mate Jam is definitely a smart phone, as its name suggests, this baby is all about multimedia. We got our hands on an unlocked version of this triband (GSM 850/1800/1900) smart phone and, using a Cingular Wireless SIM card, were able to put it through its paces. The lack of a dedicated keyboard took some acclimation and is destined to be a point of conflict, but we were happy once we were up and running. Compared to other I-mate products, the Jam feels good and sturdy in your hand, and since there's no dedicated keyboard taking up room, there's tons of space for its huge screen. Shipping with Windows Mobile 2003 SE, the Jam has Mobile Media Player 10.0, which makes getting multimedia content onto the device a cinch. Kudos aside, since the I-mate Jam has yet to get picked up by a carrier here in the States, you'll pay a premium for it. At the time of this writing, unlocked phones are going for upward of $600, but if a carrier ever picks it up, it will be less expensive with a service agreement.






Colors of Blending - When you are familiar with software applications such as Adobe Photoshop, Flash and other drawing programs, I know you are also very much familiar with the swatches.

Free SMS worldwide from your Mobile - MobiYard is a revolutionary Mobile software to send free sms worldwide, mobile dating and mobile matrimonial.

Cect Cell Phone Features And Review - I would say it's a nice cell phone with it's price, outlook and all the features that she comes with.

TV Antennas Are Back From The Past - It was an antenna and it looked similar to one of those old-fashioned antennas everyone used to use instead of getting cable.

Cell Phones Mobile Phones - Let's say you're wondering whether or not to buy a mobile phone or what you should get.

more...

New cellphone reviews
Nokia 6682 Cellphone

With its 1.3-megapixel camera, full Bluetooth capabilities, and a sweet music player, the Nokia 6682 will have phone fanatics and on-the-go shutterbugs green-eyed with envy. (08/30/2005). Specs: 240 min, 0.3 lbs


LG PM-225 Cellphone

A fairly basic but well-designed phone for those who want to add a personal touch to the task of making calls. (08/26/2005). Specs: Sprint PCS, 1900, 210 min, 3.35 oz